Eagles Soar Over the Musketeers
On Thursday, March 4, the Lady Musketeers traveled to Columbia to take on the Eagles during their Senior Night.  Although a non-conference game, Columbia is always a tough challenge for the Musketeers.  Using their height to their advantage, the Eagles were able to shut down the Musketeer scoring and rebounding, which helped lead to the Eagle win.
In the first quarter, the Musketeers were held to only seven points.  Meredith Whelan led the scoring with four points consisting of two two-pointers.  Olivia Carle was the only other player who was able to score in the first quarter with a two-pointer and going one for two at the free-throw line.  Columbia, on the other hand, scored eleven points in the first quarter.  At the end of the first quarter, Columbia was up by four points.
In the second quarter, Columbia put up another twelve points bringing their total to 23 points.  The Musketeers fell short, only scoring five points to bring the total to only 12 points at the half.  During this quarter, Whelan added another free throw going one for two at the line, and freshman Lyla Hess added two two-pointers to the score.  The Musketeers would begin the second half of the game in the hole 23 to 12.
Unfortunately, the Musketeers came out of the locker room and did not pick up the pace, only scoring three points total in the third quarter.  Whelan is the only player who was able to score during the quarter with a two-point basket and going one for two at the line.  Columbia, on the other hand, put up a solid quarter of eleven points.  At the end of the quarter, the score was Columbia 34 to Red Bud 15.
The fourth quarter was by far Red Bud's best quarter, but it was not enough to pull them out of the hole they had dug.  Adding to the scores this quarter were Lyla Hess, with two two-pointers; Carle with both a two-pointer and a three-pointer, and Hannah Sievers with a two-pointer for her first points of the game.  Even though Red Bud had a good fourth quarter, it was not as good as Columbia's, or nearly enough to dig out of the hole.  Columbia scored another thirteen in the fourth quarter, bringing their total to 47.  At the end of the night, Columbia walked away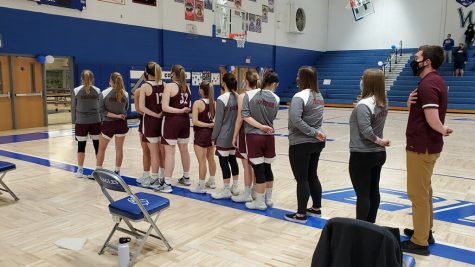 with the win 47-26.