Grace Wallace, Staff Writer
November 14, 2019 • 1 Comment
My family and I recently went to see the new movie Maleficent: Mistress of Evil. If you have never seen Maleficent before, the movie tells the story of Sleeping Beauty from the point of view of the villain. In this version,...
Monday, September 28, 2020
B Golf              JV/V   Chester   Away               4:00    G Golf              V         Chester   Away               4:00
Chester CC—This Date Added to Schedule
Cross Country B & G         New Athens  Away   4:30
Tuesday, September 29, 2020
B Golf   V     Cahokia Conf. Tournament Carlyle  9:00 am @ Governors Run GC
G Golf  V   Waterloo Gibault  Away  3:45  @ Acorns
Wednesday, September 30, 2020
B Golf    V    Sparta/Okawville @Okawville  3:30
Thursday, October 1, 2020
B Golf V  Marissa/Metro East Away   4:00 @ Marissa CC
G Golf  V  Sparta   Home   4:00
Friday, October 2, 2020                    
No Scheduled Activities
Saturday, October 3, 2020
No Scheduled Activities
RBHS Collecting Non-Perishable Food Items On Halloween
October 29, 2019
RBHS Students will again be collecting Non-perishable food items during Trick-or-Treating hours on Halloween....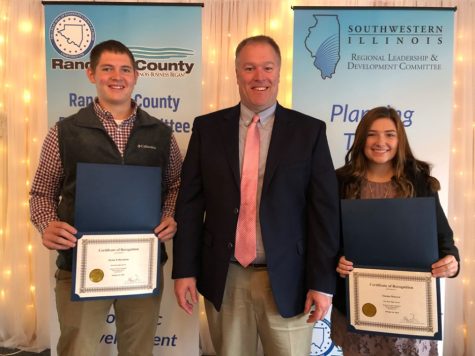 Falkenhain & Roscow Recognized
October 27, 2019
Congratulations to seniors Dylan Falkenhain and Emma Roscow for being recognized as leaders at the...
October 4, 2019
We are excited to be hosting our annual College and Career Fair next Monday night, October 7th from 6:00...

Loading ...