Grace Wallace, Staff Writer
November 14, 2019 • No Comments
My family and I recently went to see the new movie Maleficent: Mistress of Evil. If you have never seen Maleficent before, the movie tells the story of Sleeping Beauty from the point of view of the villain. In this version,...
RBHS Collecting Non-Perishable Food Items On Halloween
October 29, 2019
RBHS Students will again be collecting Non-perishable food items during Trick-or-Treating hours on Halloween....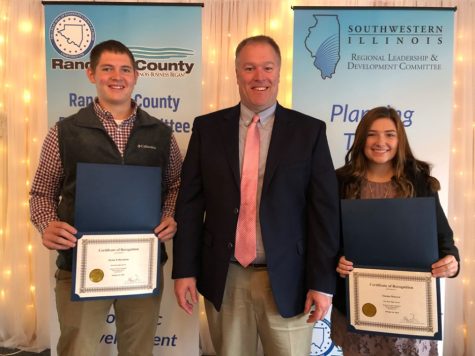 Falkenhain & Roscow Recognized
October 27, 2019
Congratulations to seniors Dylan Falkenhain and Emma Roscow for being recognized as leaders at the...
October 4, 2019
We are excited to be hosting our annual College and Career Fair next Monday night, October 7th from 6:00...
This video was created to highlight our district as an attractive place to work and showcase the district for a family looking to move so they will choose...

Loading ...
Recent Sports Scores
Thursday, August 29

JV Volleyball

Red Bud High School 2 - Marissa 0

Thursday, August 29

Varsity Volleyball

Red Bud High School 1 - Marissa 2

Tuesday, August 27

JV Volleyball

Red Bud High School 2 - Gibault 1

Tuesday, August 27

Varsity Volleyball

Red Bud High School 0 - Gibault 2

Tuesday, January 29

Varsity Boys Basketball

Red Bud High School 49 - Lebanon 35

Monday, January 28

Varsity Girls Basketball

Red Bud High School 37 - New Athens 40

Monday, January 28

JV Girls Basketball

Red Bud High School 32 - New Athens 18

Friday, January 25

Varsity Boys Basketball

Red Bud High School 33 - Marissa/Coulterville 56

Friday, January 25

JV Boys Basketball

Red Bud High School 41 - Marissa/Coulterville 17

Wednesday, January 23

Varsity Girls Basketball

Red Bud High School 38 - Steeleville 33

Wednesday, January 23

JV Girls Basketball

Red Bud High School 31 - Steeleville 9

Wednesday, November 28

JV Girls Basketball

Red Bud High School 18 - Waterloo 22