Start Your Engines: It's the Daytona 500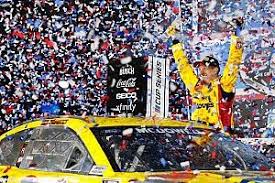 This past Sunday, the NASCAR season kicked off again with its most prestigious race, the Daytona 500. Along with the beginning of the season came great anticipation. From Bubba Wallace, who joined 23XI racing, a team owned by Michael Jordan. To whether or not Denny Hamlin could become the first driver to win three straight Daytona 500s, the race would be intriguing to watch. 
To begin the race, Alex Bowman was on the pole alongside his Hendrick racing teammate William Byron. The first major event of the race took place on lap 14 when the big one took out sixteen drivers. Immediately after this caution came out the red flag, due to lightning. After what was only to be a thirty-minute delay turned into a delay lasting more than five hours. When finally resuming, Denny Hamlin raced out to the front to win stage one of the race. After resuming the race in stage two, Denny Hamlin again led most of the second stage. History was made in this stage, as Bubba Wallace became the first African-American to lead a lap in the Daytona 500. 
After an exciting finish to stage two, Denny Hamlin would come out on top again. Stage three began and the race started to wind to the finish. The major thing to watch in stage three would be how teams would pit. After teams cycled through the pits, Joey Logano and the Fords came out in front. Hamlin, the winner of the last two 500s, came out in the middle of the pack and would have to work his way back up to the front. Things winded down smoothly till the final lap. On the final lap, Brad Keselowski, while trying to move into first place, took himself and race leader Joey Logano out, along with several other drivers in a fiery crash and caused a caution. This caution meant whoever was in first place at the time of the caution would win the race. 
The person in the first place turned out to be Michael McDowell of Front Row Racing. This win gave McDowell his first win in 358 career cup races, and only the third ever win for his team. As a 100-1 underdog, this was one of the biggest upsets in the 63-year history of the race. After an exciting opening race, it will be intriguing to see how the rest of the season plays out. In a change from the usual schedule, there will be another race at Daytona, but this time on the infield road course.