Cougars Maul Musketeers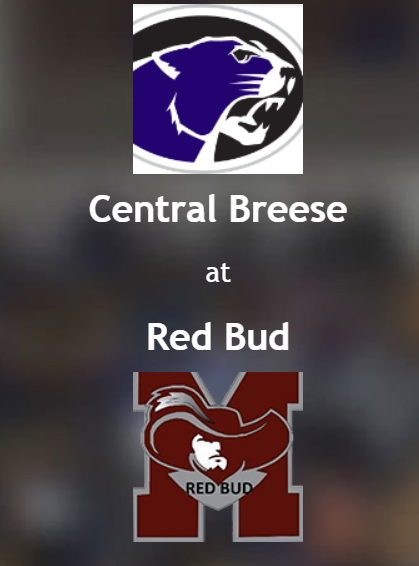 The Musketeers hosted the Central Cougars last Friday night in the school's annual "Touchdowns for Heros" Game. The night pays homage to the people that work to keep us safe and free. This year, in addition to recognizing the Heros in attendance, the football team wore Camo jerseys and dedicated their play to a personal Hero of theirs. The coaches, players, and cheerleaders worked hard to make the event exciting and memorable for the people that oftentimes do not receive the thanks they so richly deserve. Unfortunately, the game didn't go as well.
The game started well enough with Red Bud able to defend against the Cougar offense. That is until Central drove into Red Bud Territory. The Cougars connected for a 30-yard touchdown pass at the eight-minute mark. The two-point conversion was good to give Central an 8-0 lead. In a moment of "déja Vous", the Cougars repeated the play again at the Musketeer 30 for their second TD. The PAT made it 15-0 after one period. The Cougars scored a touchdown on a 35-yard run in the second quarter to extend the lead to 22-0. The Central quarterback completed a 4-yard pass of a touchdown with just two seconds remaining in the first half to make the score 29-0 at the half. 
The Cougars opened the second half by returning the opening kick-off 74 yards for a touchdown. Minutes later in the third quarter, Central drove in for a TD on an 8-yard run to make the score 42-0. Red Bud was able to avoid being shut out by scoring three times during the fourth quarter. The first on a 48-yard TD scamper by Red Bud quarterback Easton Lucht. Lucht connected with wide receiver Evan Dressel for an 80-yard pass play for a second score, the PAT was good and the score was 42-13. Lucht and Dressel each had an interception in the game as well. Late in the game, Nick Gantnet pitched in with a TD run to make the final score 42-19. 
The Boys will try again this week when the Carlyle Indians come to town. The Indians are 0-2 but match up well against the Musketeers. It will be the first League game for both teams. Red Bud is struggling with injuries on both sides of the line. It is difficult to succeed without being strong at the line of scrimmage. The team is working on that. It should be an exciting game as Red Bud looks to even their record. Come out and support your team. The kick-off is at 7:00.