Lady Musketeers Battle it Out to Beat the Tigers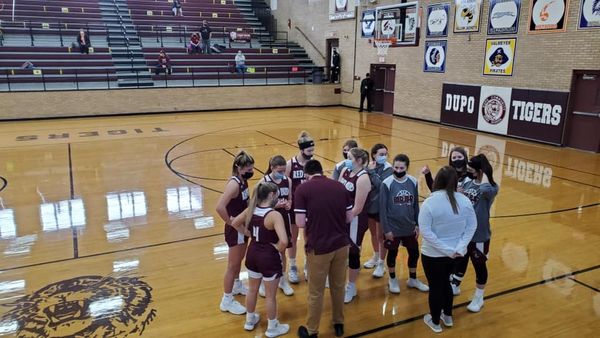 Red Bud finished their first week of games by playing at Dupo on Saturday, February 13th. As is typical, the Dupo game was a rough one and the Lady Musketeers had to fight for the lead all throughout the game. In the first quarter, the Musketeers were only able to put up six points but were able to hold the Tigers to seven. The six points were split evenly between Addison Dilley, Kassidy Ellner, and Hannah Sievers as they all made two-pointers. 
Coming back to the floor, the Musketeers stepped up their game in the second quarter. They did not shoot any free throws in the first half, so all of their points were from field goals. Sievers and Dilley both earned two more points each. Ellner scored four points with two more field goals. Sam Kolweier hit a three-pointer for her points and Olivia Carle shot a two-pointer for hers.  Going into halftime, Red Bud was in the lead by six points with a score of 19-13.
After halftime, scoring decreased in the third as Red Bud was only able to add four points to their score, but fouls increased and gave the Musketeers more chances at the line.  Ellner scored three of them with a two-point field goal and going one for two from the free-throw line. Carle had the other point as she also went one for two from the line. The Tigers scored seven points to cut the Red Bud lead down to three for the fourth quarter, which means the Lady Musketeers would have to come alive in the fourth.
The entire fourth quarter was a back and forth battle for the lead with the Musketeers scoring thirteen points. Sievers and Ellner each pulled six for the team. Sievers' points were all two-point field goals and Ellner's were from two field goals and going two for two from the line. Dilley earned the last point by making one of her two free throws. Dupo was able to score fourteen points, but it was not enough to pull ahead. Red Bud won the game 36-34, securing their second win of the season and of Coach Rogers' career as a head coach.  Point totals for the game were:  Ellner with 15, Sievers with 10, Dilley with 5, and both Kolweier and Carle with 3.
The Lady Musketeers are back in action this week — depending on the weather.  Scheduled for Tuesday, February 16 is Columbia @ home (canceled); Thursday, February 18 @ Marissa; and Saturday, February 20 @ home vs. Steeleville.  Hopefully, we will be able to get in a game or two, even with Snowmageddon 2021.