RBHS Volleyball Begins The Season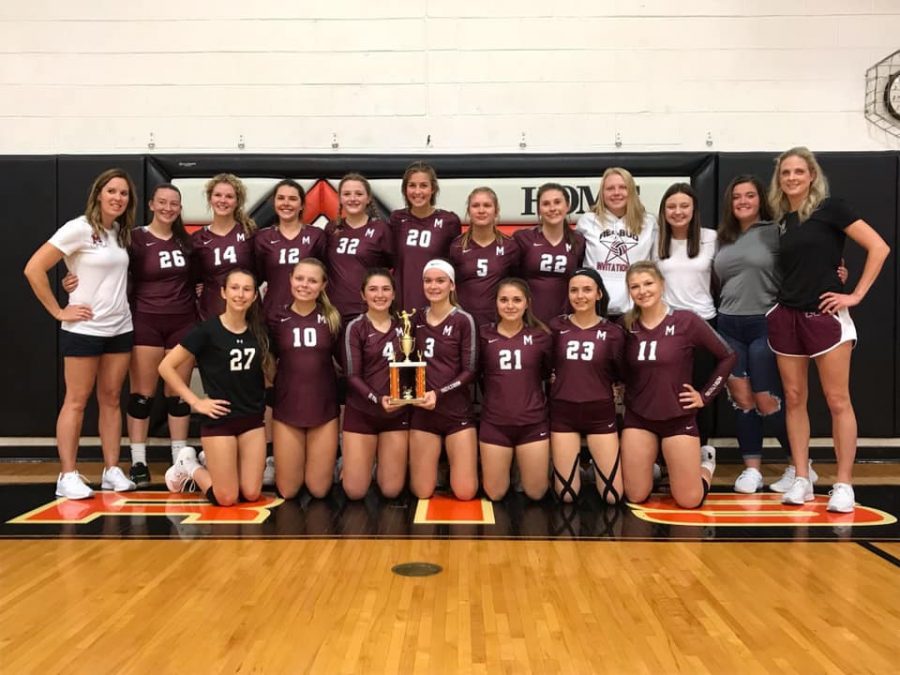 NCN, Special Contributor
September 16, 2019
The annual Marissa/Coulterville and New Athens Labor Day volleyball tournament was held last week with 12 teams participating.  Red Bud was matched with Lebanon and Trico in Pool B.  The Lady Musketeers opened Pool play against Lebanon and soundly defeated their opponent 21-11 and 21-15.
Hannah Sievers downed three kills for the team and Olivia Carle had two. Katie Schneider served for seven points and Madison Reinhold tallied six points. Claire Grohmann recorded one block. Sami Lucht had seven digs and Reinhold contributed four. Jenna Salger totalled eight assists for the match. Reinhold had eight receptions.
The team's second game for the evening was against Trico. The Lady Pioneers edged Red Bud 23-21 for the first game. The Lady Musketeers came back and won the second contest 21-18 to push the match to a third game. Red Bud prevailed 15-4 to claim the match.  Carle put away seven kills. Grohmann and Megan Schrader accounted for three each. Schneider served for 14 points with five ace serves. Megan Stellhorn scored nine points with two aces. Reinhold had eight points and one ace. Grohmann put up two blocks. Lucht and Reinhold recorded seven digs apiece. Stellhorn had six. Salger tallied 16 assists. Reinhold had 10 receptions for the match. Lexi Price contributed seven and Emma Roscow, six.
After winning Pool B, Red Bud faced Gibault, the winner of Pool A. The Lady Musketeers came out on top in the first contest 21-18.  Gibault, however, took the second game 21-11 to send it to a third game. The Lady Hawks won 15-10 to claim this match.  Alyssa Cowell had five kills. Carle accounted for four and Grohmann, three. Lucht tallied 13 points at the serving line with three ace serves. Grohmann and Salger had one block apiece. Lucht recorded nine digs and Reinhold, seven. Salger put up 16 assists for the match.  Grohmann recorded 11 receptions while Reinhold and Roscow had six each.
After losing this match, Red Bud faced East St. Louis in the semi-final round. East St. Louis jumped out to a lead and Red Bud couldn't recover as their opponent won the first game 21-8. Red Bud bounced back and took the second game 21-14 as well as the third and final game 15-9 sending the team to the championship match against Gibault.
Carle put away five kills. Cowell and Grohmann had three each. Carle scored eight points with three ace serves. Lucht had seven points and one ace. Cowell had six digs. Carle and Lucht contributed five each. Salger had 13 assists for the team. Cowell and Reinhold tallied nine receptions apiece.
In round one of the championship match, the Lady Hawks narrowly edged the Lady Musketeers 21-19. Gibault went on to claim the championship title after winning 21-9 in the second game.
Grohmann downed three kills. Cowell, Stellhorn and Schrader contributed two each. Schneider and Stellhorn served four points each. Stellhorn put up one block. Salger had 11 assists. Cowell recorded nine receptions. Lucht and Reinhold had seven apiece.
"It was a long week, but I was very proud of the team's effort and battle. The game against East St. Louis was awesome! They played crazy good defense and had some amazing long rallies," said Coach Erin Legendre.
"It was tough to lose to Gibault in only two sets the last game, but I think we had hit our six game wall. I am proud of their great sportsmanship and positivity all week. I am looking forward to two conference games this week as well as Volley for the Cure on Thursday," added Legendre.
Earlier last week, Red Bud lost to Mascoutah 25-19 and 25-17. This week they travel to Valmeyer on Wednesday and host New Athens on Thursday for Volley for the Cure.