Musketeers Go 1-1 in One of Their Final Weeks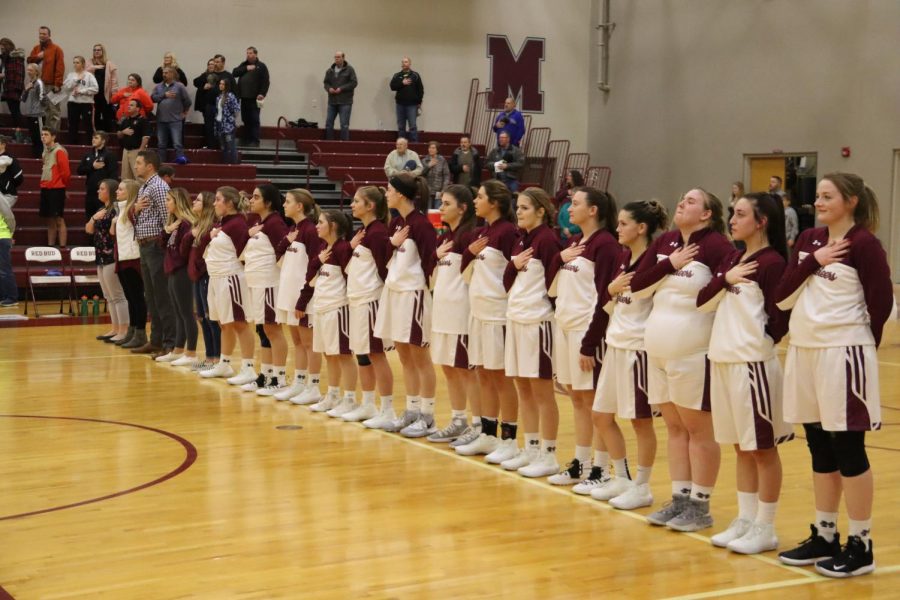 Hannah Sievers, Staff Writer
February 7, 2020
On January 27, Red Bud travelled to Wesclin for a hard fought game. It was a very close game and in the first quarter both teams were working very hard.  The Lady Musketeers proceeded to score thirteen points. Amber Stengel had five points with a three and a two-pointer–she was having a great shooting quarter. The rest of the points consisted of two pointers spread out between Claire Grohmann, Olivia Carle, Sami Lucht, and Chloe Wild. Wesclin managed to score fifteen points, giving them the lead for the 1st quarter.
In the second quarter, during a scramble for a loose ball, one of Wesclin's Seniors with down with a knee injury.  We had a momentary break while both teams attempted to work on strategy and the trainers were able to assess the damage.  Red Bud came out ahead in this quarter by putting up nine points. Stengel again had five of them with a three-pointer and a jump shot. Kassidy Ellner scored a two-pointer as well. The final two points were free-throws by Merideth Whelan and Carle. The Warriors only put in seven points, which meant the score was tied at halftime. 
The defense went downhill in the third quarter and the fouls began killing the Musketeers. The Lady Musketeers added nine points to their score, while Wesclin added fifteen. Four of these points were from Grohmann with a couple of two-pointers. The other five were created from a two-pointer by Hannah Sievers and a three-pointer hit by Ellner. Wesclin was up by six after the third–37-31.
During the final quarter, Red Bud managed to put in eight points. Whelan hit a two-point shot and Grohmann also hit a two-pointer, but she made a free throw as well. The final points were another three-pointer by Stengel. Wesclin scored nine points, all in free throws, which made the final score thirty-nine to forty-six Wesclin.  This game, yet again, proved that fouls and free throws can win games. Although we were shooting well, Wesclin beat us with the number of free throw shots they made.
On January 29, the Lady Musketeers faced off against Steeleville at home–the 4th time the Musketeers went up against the Warriors this season.  In the first quarter, Red Bud scored fourteen points. Three girls had four points apiece–Claire Grohmann and Chloe Wild each made two two-pointers, and Hannah Sievers hit a two-pointer and two free throws. The other two points were made with a two-pointer by Sami Lucht. Steeleville managed only six points, making the score 14-6 at the end of the 1st quarter. 
During the second quarter, scoring slowed down a bit as the players were rotated. The ladies put in six points. Kassidy Ellner hit a two-pointer and Sievers made one for two of her free throws. Amber Stengel also hit a three-pointer. The Musketeers were able to hold the Warriors to four points, which made the score twenty to ten going into halftime. 
In the third quarter, Red Bud fought hard and scored sixteen points. Sievers had six of these with a couple of two-pointers and two free throws. Merideth Whelan and Lucht each had two points from a two-pointer. The final six points were from Grohmann, all from break away two-pointers. Steeleville, on the other hand, scored five points. Red Bud was up by twenty-one by the end of the third quarter. 
Throughout the fourth quarter the lineup changed again and Red Bud scored seven points.  Jessica Bievenue and Megan Stellhorn both scored a two-pointer and the other three were from free throws. Sam Kolweier hit two of them and Reese Foster made one of her two. Steeleville only managed four points, which meant the final score was forty-three to nineteen with Red Bud on top.  Next week, the Lady Musketeers finish their regular season with New Athens away on Monday night and Senior night at home vs. Marissa on Thursday, February 6. The Musketeers also go up against Columbia on Monday, February 10, in their first game of Regionals at Columbia.