RBHS FBLA Attends Illinois Southern Area Leadership Conference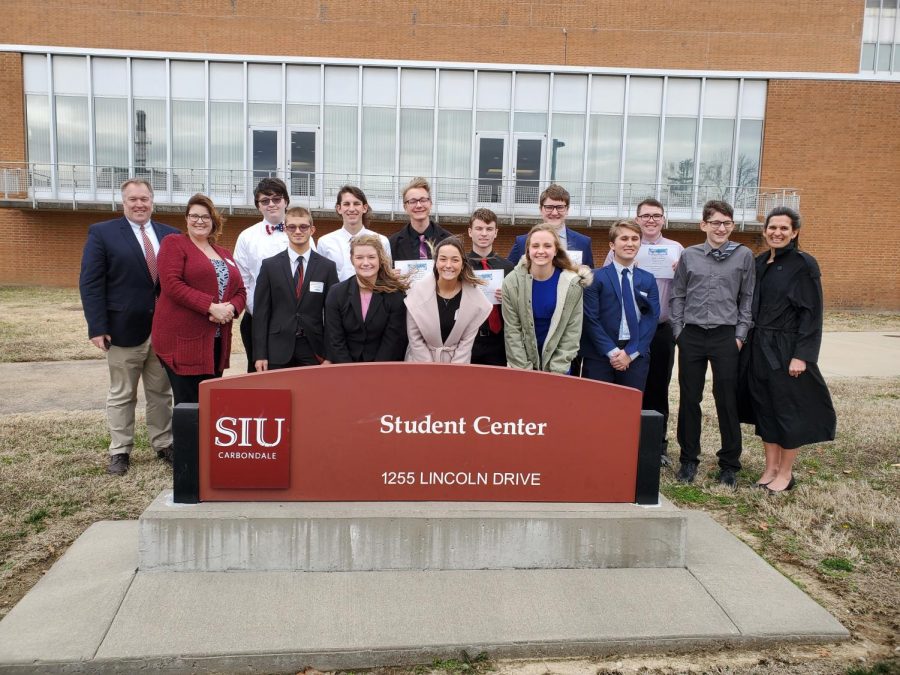 The Illinois Future Business Leaders of America Southern Area Conference was held at
Southern Illinois University in Carbondale on Thursday, January 09, 2020, with 695 advisers,
members, and guests registered from 20 area schools: Anna-Jonesboro, Carbondale
Community, Carterville, DuQuoin, Gallatin County, Goreville, Hamilton County, Harrisburg,
Herrin, Marion, Mt. Vernon, Murphysboro, Pinckneyville, Pope County, Red Bud, Sparta, Trico,
Waltonville, and Woodlawn FBLA chapters and the Carterville Junior High School Middle Level
Chapter. The theme of the conference was "FBLA: Create. Lead. Inspire."
Congratulations to the following members of the Red Bud High School FBLA Chapter who won
awards at the conference:
Warren Mudd in Cybersecurity — 1st place
Owen Fahey in Computer Problem Solving — 1st place
Avery Piel in Organizational Leadership — 2nd place
Nolan Cowell in Impromptu Speaking — 2nd place
Colby Koester in Accounting 1 — 3rd place
Ethan Fritsche in Economics — 3rd place
Reece Candler in Political Science — 3rd place
Other Red Bud High School FBLA members who were in attendance and competed at the Southern Area Conference were:
Logan Schoenbeck in Computer Problem Solving
Max Simspon in Personal Finance
Adrienne Vallett in Ag Business
Jordyn Mulherin in Business Ethics
Owen Stallings in Political Science
Will Simspon in Introduction to Financial Math
Advisers Tracey Simpson and Anne Sievers were in attendance, along with Rob Pipher, Diane Schoenbeck, and Abigail Carter as judges. FBLA is a career and technical
student organization that promotes business leadership training as its goal. For more
information on FBLA, go to www.ilfbla.org and www.fbla-pbl.org.