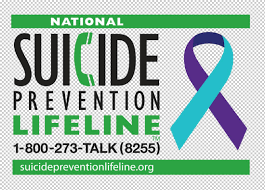 Google Images
The week of September 9th through September 12th is National Suicide Prevention Week. Suicide is an awful phenomenon that has been rising in our country for the past several years. Suicide is the 10th leading cause of death in our country and on average there are about 129 suicides per day. As a school and as a nation, we need to raise awareness on this epidemic and things we can do to try and prevent it. Speaking out can be hard and often overbearing, but something this serious cannot continue to go unspoken. Please understand as a parent, student, faculty member, or anything that you have to pay attention to these signs as they are real and highly serious. As people living through this, we must educate ourselves on this topic. 
What to do: 
Ask questions: be sensitive but give someone the opportunity to talk
Look for warning signs 
Contact immediate help: contact a trusted adult 
Offer support
Keep it confidential 
Signs of depression or suicidal thoughts:  
Talking about wanting to die or wanting to kill themselves
Talking about feeling empty, hopeless, or having no reason to live
Making a plan or looking for a way to kill themselves, such as searching for lethal methods online, stockpiling pills, or buying a gun
Talking about great guilt or shame
Talking about feeling trapped or feeling that there are no solutions
Feeling unbearable pain (emotional pain or physical pain)
Talking about being a burden to others
Using alcohol or drugs more often
Acting anxious or agitated
Withdrawing from family and friends
Changing eating and/or sleeping habits
Showing rage or talking about seeking revenge
Taking great risks that could lead to death, such as driving extremely fast
Talking or thinking about death often
Displaying extreme mood swings, suddenly changing from very sad to very calm or happy
Giving away important possessions
Saying goodbye to friends and family
Persistent sad, anxious or "empty" mood
Feelings of hopelessness, pessimism
Feelings of guilt, worthlessness, helplessness
Loss of interest or pleasure in hobbies and activities, including sex
Decreased energy, fatigue, feeling "slowed down"
Difficulty concentrating, remembering, making decisions
Insomnia, early-morning awakening, or oversleeping
Low appetite and weight loss or overeating and weight gain
Thoughts of death or suicide, suicide attempts
Restlessness, irritability
Persistent physical symptoms that do not respond to treatment, such as headaches, digestive disorders, and pain for which no other cause can be diagnosed.
Signs of self-harm:
Scars, often in patterns
Fresh cuts, scratches, bruises, burns or other wounds
Excessive rubbing of an area to create a burn
Ripping of skin around fingers, lips, arms, etc.
Keeping sharp objects on hand
Wearing long sleeves or long pants, even in hot weather
Frequent reports of accidental injury
Difficulties in interpersonal relationships
Behavioral and emotional instability, impulsivity and unpredictability
Statements of helplessness, hopelessness or worthlessness
Hotlines: 
The Suicide Prevention Lifeline: (800-273-8255) 
The National Domestic Violence Hotline:  (800-799-7233)
Other Mental Health Hotlines: 
Anxiety and Depression Association of America (ADAA: (240-485-1001)    
Children and Adults with Attention-Deficit/Hyperactivity Disorder (CHADD): (800-233-4050)
Depression and Bipolar Support Alliance (DBSA): (800-826-3632)
International OCD Foundation: (617-973-5801)
National Center of Excellence for Eating Disorders (NCEED):  (800-931-2237)
Schizophrenia and Related Disorders Alliance of America (SARDAA): (240-423-9432)
Sidran Institute: (410-825-8888)
Treatment and Research Advancements for Borderline Personality Disorder (TARA): (888-482-7227)