Thor: Ragnarok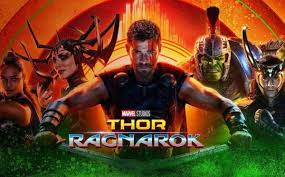 Hang on for a minute...we're trying to find some more stories you might like.
It truly looks like the end for Thor and his allies. Two years after the events of 'Avengers: Age of Ultron' Thor (Chris Hemsworth) is traveling the universe searching for infinity stones, the most powerful objects in existence. Upon returning to Asgard, he realizes that his brother Loki (Tom Hiddleston), whom he thought dead, has been posing as their father, Odin (Anthony Hopkins). The duo finds him on Earth, and with him a revelation. Their older sister, Hela (Kate Blanchett), is returning with ill intentions. She destroys Thor's hammer, and things take a turn for the worst. The god of thunder eventually finds himself an arena slave. At this point, saving his planet is his top priority. Victory will come at a cost, one he might not be willing to pay. Main characters include Thor, god of thunder; Loki, god of mischief; Valkyrie, a warrior with a tragic past; Bruce Banner, aka the Incredible Hulk; The Gamemaster; And Hela, Odin's firstborn.
Chris Hemsworth made his debut as Thor in 2011. Tom Hiddleson is world famous for his flawless performance as the sometimes hero, most of the time villain Loki. Kate Blanchett has starred in everything from Indiana Jones to Cinderella to How to Train Your Dragon 2. Tessa Thompson seems born to play an Asgardian warrior. Mark Ruffalo made his debut as the Hulk in the first Avengers film. Jeff Goldblum, who plays the Gamemaster, is most well known for his role as Ian Malcolm in the Jurassic Park franchise. Benedict Cumberbatch makes a small appearance as Dr. Strange. And once again, Stan Lee makes is 'creepy old man' cameo.
Nothing about this movie disappointed. The acting was spectacular, all the characters were well rounded, and the climax was intense. There are plenty of references to other movies and the other Avengers. We get to see Loki's not-so-dark side, and learn more about his and Thor's childhood together. Their poor parents. Other sides of characters come to light. Thor's fear of failure. Loki's care for his brother. Valkyrie's grief and her ways of dealing with it. Bruce's anxiety and how he lives with the 'curse' of the Hulk. Speaking of Hulk, he actually speaks full sentences this time around. Hela's humor, even if it is dark. The after-the-credits scene gives a big hint on details of the next Avengers film. However, it might be a little hard to understand for someone who hasn't seen other Marvel films. Without all the comedy, it would also be very dark.
The message of the movie was clear as day. Victory has a cost. Sometimes, you can't save everything. Family and loyalty are also prominent. The main villain, of course, is Thor and Loki's older sister. Their father gives Thor the push he needs to finish the job. Thor and Loki's bond is still strong, despite the multiple times Loki has tricked, attempted to murder, and/or stabbed his brother.
Anyone who enjoys action, comedy, sci-fi, or superhero movies would enjoy this film. The MPAA rating is PG-13. My personal rating? Four stars. If you love superheroes, it's a must. If you don't still go. It just might convert you.